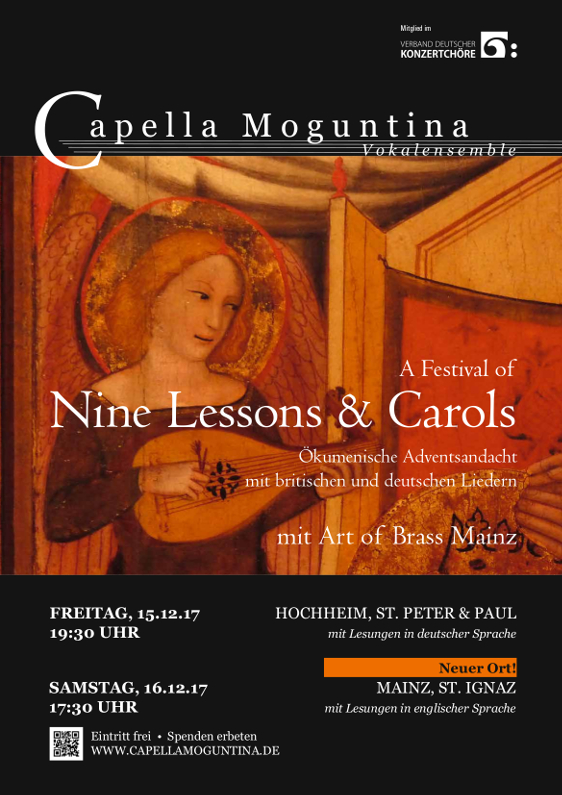 Wie jedes Jahr zur Adventszeit hat das Vokalensemble Capella Moguntina das "Festival of Nine Lessons and Carols" gestaltet, das zu einer beliebten Institution die der Rhein-Main-Kulturlandschaft geworden ist.
Bei der besonderen konzertanten Adventsandacht hat Capella Moguntina Stücke von Chilcott, Willcocks, Hammerschmidt, Praetorius, Palestrina, Lauridsen, Händel u.a. interpretiert. Außer den traditionellen Carol-Sätzen waren Stücke aus Renaissance bis Moderne dabei. Für die instrumentale Begleitung sorgte dieses Jahr das Blechbläserensemble Art of Brass Mainz.
Die Adventsandacht ist in der anglikanischen Liturgie beheimatet. Hierbei werden neun Lesungen aus dem Alten und Neuen Testament im Wechsel mit Advents- und Weihnachtsliedern, den sogenannten Carols, vorgetragen. Die Lesungstexte schildern mit wortgewaltigem Bildern die in Jesus Christus den Menschen widerfahrene Heilsgeschichte. Die Carols legen dabei auf besinnliche Weise die vorgetragenen Lesungstexte aus.
Konzertante Adventsandacht
Ähnliche Projekte

Warning: count(): Parameter must be an array or an object that implements Countable in /www/htdocs/w007c648/wp-content/themes/magnis_new/single-portfolio.php on line 257


Warning: count(): Parameter must be an array or an object that implements Countable in /www/htdocs/w007c648/wp-content/themes/magnis_new/single-portfolio.php on line 257


Warning: count(): Parameter must be an array or an object that implements Countable in /www/htdocs/w007c648/wp-content/themes/magnis_new/single-portfolio.php on line 257


Warning: count(): Parameter must be an array or an object that implements Countable in /www/htdocs/w007c648/wp-content/themes/magnis_new/single-portfolio.php on line 257


Warning: count(): Parameter must be an array or an object that implements Countable in /www/htdocs/w007c648/wp-content/themes/magnis_new/single-portfolio.php on line 257


Warning: count(): Parameter must be an array or an object that implements Countable in /www/htdocs/w007c648/wp-content/themes/magnis_new/single-portfolio.php on line 257


Warning: count(): Parameter must be an array or an object that implements Countable in /www/htdocs/w007c648/wp-content/themes/magnis_new/single-portfolio.php on line 257