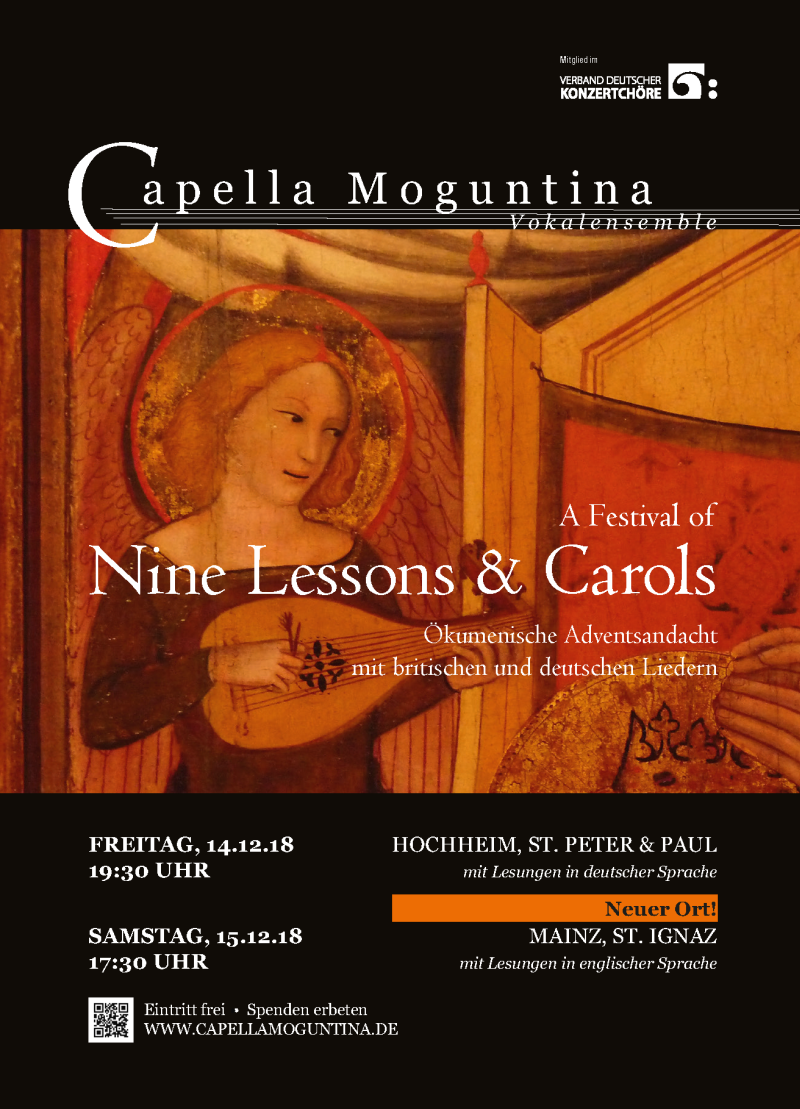 Auch 2018 hat das Vokalensemble Capella Moguntina eine konzertante Adventsandacht gefeiert, das "Festival of Nine Lessons and Carols". Es ist zu einer beliebten Institution der Rhein-Main-Kulturlandschaft geworden.
Die Adventsandacht ist in der anglikanischen Liturgie beheimatet. Hierbei werden neun Lesungen aus dem Alten und Neuen Testament im Wechsel mit Advents- und Weihnachtsliedern, den Carols, vorgetragen. Die Lesungstexte schildern mit wortgewaltigen Bildern die in Jesus Christus den Menschen widerfahrene Heilsgeschichte. Die Carols legen dabei auf besinnliche Weise die vorgetragenen Lesungstexte aus. Am Weihnachtsabend des Jahres 1918 wurde das "Festival" erstmals im King's College in Cambridge von dessen berühmtem Chor aufgeführt. Seitdem erfreut es sich in ganz Großbritannien großer Beliebtheit und die Radio und Fernsehsendungen der BBC aus dem King's College gehören seit Jahrzehnten zum festen Bestandteil der weihnachtlichen Feiern in vielen Familien.
Für dieses besondere Konzert hat das Vokalensemble Capella Moguntina Stücke ausgewählt, die von der Renaissance bis zur Moderne reichen. Auch traditionelle Carol-Sätze waren zu hören.
A Festival of Nine Lessons and Carols
Ähnliche Projekte

Warning: count(): Parameter must be an array or an object that implements Countable in /www/htdocs/w007c648/wp-content/themes/magnis_new/single-portfolio.php on line 257


Warning: count(): Parameter must be an array or an object that implements Countable in /www/htdocs/w007c648/wp-content/themes/magnis_new/single-portfolio.php on line 257


Warning: count(): Parameter must be an array or an object that implements Countable in /www/htdocs/w007c648/wp-content/themes/magnis_new/single-portfolio.php on line 257


Warning: count(): Parameter must be an array or an object that implements Countable in /www/htdocs/w007c648/wp-content/themes/magnis_new/single-portfolio.php on line 257


Warning: count(): Parameter must be an array or an object that implements Countable in /www/htdocs/w007c648/wp-content/themes/magnis_new/single-portfolio.php on line 257


Warning: count(): Parameter must be an array or an object that implements Countable in /www/htdocs/w007c648/wp-content/themes/magnis_new/single-portfolio.php on line 257


Warning: count(): Parameter must be an array or an object that implements Countable in /www/htdocs/w007c648/wp-content/themes/magnis_new/single-portfolio.php on line 257